2017 Events
In 2017  we did not go to Maryland,  because our truck could no longer pull.
At the  ARBA National Show (Garden State Sheep and Fiber Festival in September),  under judge Dr Geoff Ruppert ,  we had the National Ch. white ewe  with our lamb Anchorage 1495-17. She is pictured  below.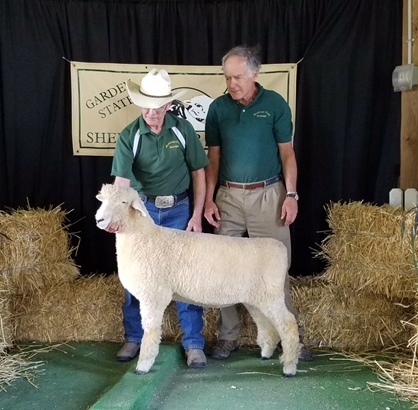 Our white ram lamb 1514 -17 (pictured below) was Res. National Ch. white ram and best -fleeced white Romney.  Both these lambs are by Smiling Sheep 145.  We thank the Chapin family for letting us have this  outstanding  ram.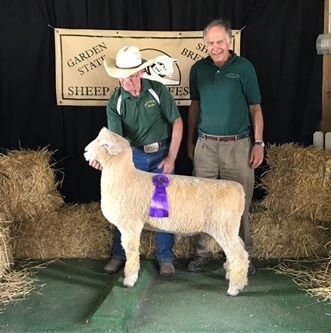 These two lambs and their natural-colored  flockmates went  to  Rhinebeck Oct 21. Here's what happened:
Brief background for those not familiar with the Sheep Show at the New York State Sheep and Wool Festival.  It is not organized by individual breeds.  Instead,  color (white or natural-colored) and wool type ("fine," "medium" or "long") define six separate shows that merge at the end in the selection of a supreme champion for each color and sex across the three divisions of wool type.  The "long" groups are usually the biggest in each color.  Romney, Lincoln, Border Leicester, Shetland and Cotswold are typically most numerous, with some years featuring Blue-faced Leicester, Teeswater,  NC Cheviots,  Wensleydale, and Karakul.    We bring only lambs to this show.
In 2017 NYSSWF show under judge Woody Gilson we had
Champion White Long Wool Ewe.  She was Anchorage 1495, who was also the 2017 ARBA National Ch. White  Ewe.
Reserve Champion White Long Wool Ram with Anchorage 1514, who was also the Reserve Champion ram of the 2017 ARBA National White show.
Anchorage 1485   was the  Champion Natural-colored Long Wool Ewe
Anchorage 1486  Champion Natural-colored Long Wool Ram then  Supreme Champion Natural-colored Ram (pictured below
In Natural-colored Long Wool Division we also had First Pair of Ewe Lambs and First Pen of Three Lambs.
In the NYS Bred Ewe and Ewe Lamb Sale we had Champion and Reserve Champion White Romney and the top-selling Romney Ewe
The Festival has a fleece sale, with over 700 fleeces judged before the doors open in categories of color (White or natural-colored) and the judges' eye-and-hand classification of wool type (fine, medium, long and primitive).  Fleeces are entered in the given name of the consignor, not a farm name.  In 2017,  Lizbeth Shafer had third in Natural-colored Medium (a Romney fleece) and third in White Long, while Stephen Shafer had first in White Long.
Thank you, Graeme Stewart, our redoubtable manager!