Romney History
See  article in wikipedia on Romney (sheep),  written mostly by Stephen Shafer  in 2008. and since lightly edited quite often.   I did not supply all the pictures for it.. 
For an article Stephen wrote  in 2008 on the use of Romney wool in rugs and carpets,  click  on Romneys to Rugsnopix2014 .
            The Romney is the second (to the Merino) most numerous  sheep breed in the world.  The foundation breed of New Zealand's export  trade in chilled and frozen lamb,  Romneys also provide thousands of tons of strong wool for carpet yarns. Romney fleece is pleasing  in a spinner's hands, ideal for bulk yarns in durable fisherman's sweaters.
             Romneys emerged as a breed in the southeast corner of England (Kent and East Sussex) during the late eighteenth century.  This gives a long breed history, if not the seniority of the Lincoln or the Ryeland.  The breed's development also follows by a little in time Ellman's work on the Southdown and Bakewell's improvements on the Leicester.   When Merinos, which has boomed in Australia, did not click on introduction to New Zealand,  Romneys were tried there in 1853 and have flourished since like no other breed.
            The seminal importation to the U.S. was from England to Oregon in 1904.  The American Romney  Breeders Association was founded in 1912.  ARBA has recognized natural-colored Romneys since 1972. 
            Though  importations to America from England have been almost nil in the last sixty years, it's fun for today's  breeders in foreign fields to get a picture of Romney Marsh.  Lizbeth and Stephen made a pilgrimage there in 2001 and had a wonderful  time.  Our friends Angela and Roger Doughty introduced us to Howard Bates, whose family has held Becket Barn Farm in Brookland, Kent, for seven generations.  Click here for a good article about it from 2018.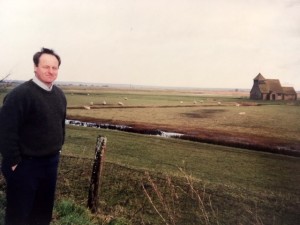 Here's a picture we took Jan 2001 of Howard and the 12th C. church of St Thomas a Becket in Fairfield.  His family's farm is a short distance from it.   "Romney Marsh" (really several "marshes") is in  southwestern Kent. Becket Barn Farm itself is in  Walland Marsh.  Portions of "The Marsh " are below sea level, kept from flooding by dikes as are  parts of the Low Countries.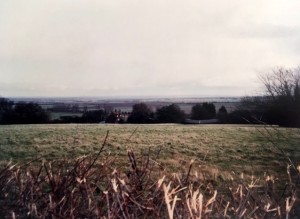 The photo to the left looks south toward the sea over "The Marsh" from a low hill.
More to come on this site  about Romney Marsh, its lore and legends + remarkable natural  and human-influenced history.