Home
Anchorage Farm, Saugerties NY,  Registered Romney Sheep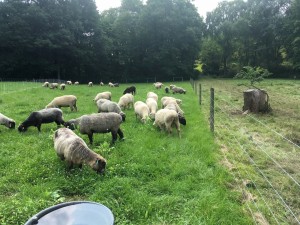 Our mission  is   regenerative  agriculture in the Hudson-Catskills region  with purebred Romney sheep — the world's most important dual-purpose breed.
Our vision  is  to cherish   the whole web of life  from micro to macro on this  250 year-old riverbank farm  as we raise  superb  Romneys  for the 21st century.
"Mother earth never attempts to farm without live stock; she always raises mixed crops; great pains are taken to preserve  the soil and to prevent erosion; the mixed vegetable and animal wastes are converted into humus; there is no waste; the processes of growth and the processes of decay balance one another; ample provision is made to maintain large reserves of fertility; the greatest care is taken to store the rainfall …"  Sir Albert Howard An Agricultural Testament  p. 4
Our goals
 true dual-purpose sheep
 flock fertility above the  the breed average
 uniformity of fleeces within and between animals
 improving  the breed from within
  biodiversity and  balance with  indigenous flora and fauna
 soil health (high organic matter content, thriving underground biota, minimal to no erosion into waterways)
 human and animal health and safety
Some objectives set years ago:
wean 1.6 lambs for every ewe exposed
sell >500 lbs of fleece/year direct to handspinners or yarn mills
have >10%  of  lambs  each year that are  "recessively colored"
place high in all  shows we go to
flock free of ovine progressive pneumonia and  caseous  lymphadenitis
keep  high ethical standards
no serious accidents to animals or people
 
  The slide-show is a seasonal sequence through 12 months , but not all images are from the same year.