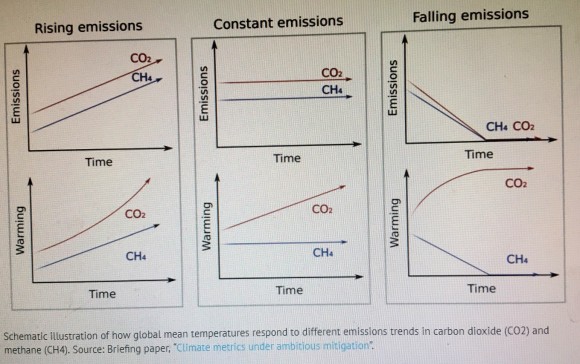 Schematic illustration of how global mean temperatures respond to different emissions trends in carbon dioxide (CO2) and methane (CH4)  source Allen, Cain Lynch Frame (2018)
Summary The atmosphere,  a major sector of the carbon cycle,  manages methane (CH4) and carbon dioxide (CO2)  very differently.   Use of a Global Warming Potential ratio (GWP)  to compare  the future heating effect of CH4  emissions to that of  CO2 emissions ignores those differences.  In future scenarios where CH4 emissions have been level or falling steadily for ten to twenty years, CO2-e reckoned by GWP will predict huge ongoing additions by methane to heat-trapping.  Actually in these scenarios there will be no further additions if the hypothetical  trend holds.  Methane emissions will equate to zero or even negative CO2-e.  In contrast, CO2 emissions will keep adding to heat-trapping until they decline to net zero.  Using CO2-e  for methane hides the  fact   that  reducing CH4 emissions instead of letting them rise would  make an enormous  improvement in the planet's 2030 budget of  heat-trapping GHGs.  Banning new natural gas fracking wells would end  the uptrend  in gas production that underlies imputed uptrends  in methane emissions.
            The illustration above caught my eye a few months ago for its graphic challenge to the received wisdom  that the  global warming effect of methane (CH4) emissions over time is well-captured by a constant ratio (GWP)  that  compares their future warming effect to  that of  carbon dioxide (CO2)  emitted at the same time.  The comparison is expressed as CO2 equivalent or CO2-e.  
            In the bottom row above,  CH4  heating effect does not parallel CO2 heating effect at all times as it should if they are related by GWP.    Divergence between the CH4 and CO2 curves in the bottom row (warming vs time) is especially striking in the middle and right-hand panels.  If emissions of both gases have been unchanged  (middle column)  for ten to twenty  years, methane emissions at the same rate thereafter  equate to the emission of  no  CO2.   If emissions of both gases have been falling for ten years and keep  to that trend (right-hand column),  future methane emissions will permit atmospheric cooling even though future falling CO2 emissions will add to heating until they are nil.      
            The middle and right-hand columns represent "scenarios of ambitious mitigation." These look today like fantasies, yet the (even more challenging) right-hand column must be realized if the living earth is to be recognizable in fifty years.  The illustration shows a tremendous potential benefit to leveling out or (better yet) decreasing methane emissions that is missed completely by a GWP-mediated comparison to CO2 as  CO2 equivalents or CO2-e    Most enviro-activists don't see this opportunity, especially re  annual increases in withdrawals of natural gas that almost certainly cause increases in methane emissions. 
CH4                methane
CO2                carbon dioxide
CO2-e             CO2 equivalent, derived from GWP,  of the heat-trapping capacity of a GHG  emission,  In this paper, methane is the only non-CO2 GHG considered.
CO2-e*           CO2 equivalent of the heat-trapping capacity of a methane emission derived using  GWP*  Spoken of as "CO2-e star"
GHG               Greenhouse gas
GWP               Global warming potential of a GHG relative to CO2 over a specified time span
GWP*             Variant metric to estimate future heating effect  of a "short- lived" GHG or other  climate pollutant relative to CO2  spoken of as "GWP star"
Mmt                million metric tons,  typically used for CO2
Tg                    million metric tons,  typically used for methane
            This paper aims to alert activists  to  how much leverage there is  for mitigating global heating by getting methane emissions on a level plane or declining year-on-year for a decade or more.    We are used to GWP as the metric for comparing the heat-trapping capacity of methane to that of CO2 over a specified time horizon, such as a hundred years.   The conventional GWP says  that an emission of methane will add to atmospheric heat-trapping in strict ratio to  a like amount of  CO2 emitted at the same time, the ratio being the chosen value of GWP.
            A different usage of GWP,  designated GWP*  or   "GWP star" by the multi-national group that  advocates it, takes into account (as GWP does not)  the difference in how the atmosphere manages CO2 and CH4  to create  the models in the illustration above. In a 2018 paper  members of the group wrote "Expressing mitigation efforts in terms of their impact on future cumulative emissions aggregated using GWP* would relate them directly to contributions to future warming, better informing both burden-sharing discussions and long-term policies and measures in pursuit of ambitious global temperature goals ."[emphasis added]
            Sidebar on GWP:    Values for GWP on a 100-year horizon in recent use range from 25 to 34, with  no consensus.  The current GWP for a 20-year horizon (GWP20) is 86.  Authorities disagree on which horizon to use.  Ocko et al [Science 5 May 2017]  suggest a dual metric called  GWP100/20 , analogous to mpg hiway/city.  I am convinced  that GWP20 is more correct for considering the next twenty years; this paper, however, will use only a GWP100, with value 28.  That is the GWP used by the multi-national group that has proposed the alternative metric GWP* explored in this paper
             Conventional GWP  usage  predicts  that  (say) 300 Tg (= 300 million metric tons or Mmt)  of methane emitted  in  (say) 2030 will increase atmospheric heat-trapping during the following ten years as much as will 8400 Mmt of CO2 emitted  in the same year.  This appalling prospect is not necessarily correct.  Actually, how much a future methane release will add to atmospheric heat-trapping will not  on its size but on the rate of change in annual methane emissions over the previous ten to twenty years.  With CO2, by contrast,  all future emissions add to the atmospheric burden regardless of  the  trend in annual emissions over preceding years.  The difference  is crucial in thinking about the utilities of  curbing  methane emissions over the next two decades..      
            Suppose that 2019  human-influenced methane emissions are 300 Tg  (a figure plucked from the air).  We want to estimate in 2019  the effect of methane releases during  2029 on global surface temperature over  the following ten to twenty  years.  The motive is to decide how much benefit in temperature moderation  can be got from keeping annual releases 2019-2029 at or below 300 Tg    Applying a GWP100 to 300 Tg of emissions in 2029 yields the monstrous CO2 equivalent above, 8400 Mmt.   Seeing  how the atmosphere handles methane as opposed to CO2, however,  offers  a  revelation that will surprise many well-informed people.    If  (big if) annual methane emissions have been  uniformly at or below  300 Tg/yr from 2020 through 2029, the release of 300  Tg in that last year will add to atmospheric heat-trapping capacity the equivalent of zero (0)  Mmt  CO2.   Methane releases 2020-2028 will have added  a great deal  to  heat-trapping capacity that obtained  in 2019, but releases of the  same or smaller size in  2029 and the years to follow  will  not add any more.  Put another way, CO2-e* = 0.
            That observation may seem wishful thinking, because the world is hardly on course to hold methane emissions in the next 10-20  at or below current levels; the very opposite is true.    Nonetheless,  it  is conceivable  that public pressure +  resistance could end the annual growth  of  gas extraction, thereby curbing  methane emissions over the next decade.
               The point here is that when thinking about methane for a ten-twenty year future GWP and the related CO2-e are not apt metrics.  My quest to spread the word on why GWP* and the associated CO2-e*  spotlight the benefits of  "ambitious mitigation"  led  me to a graphic explanation. It begins with a narrative comparing the careers of methane molecules and CO2 molecules in the atmosphere.
            Most  methane molecules in the atmosphere have by  ten  years after entrance  been changed  into CO2  through  a series of chemical reactions in the oxidizing  "atmospheric methane sink."  If each of these molecules is not replaced with another from a human-influenced source,  the  atmospheric inventory of methane will begin to decline toward the level set by "natural" (not human-influenced) methane releases.  An individual methane molecule survives only a few years.  A one-time bolus of methane molecules without replacement will have dwindled to almost none within  roughly ten years. Methane is "short-lived."
            Most CO2 molecules that arrived at the same time as the methane ones have also left the atmosphere in those ten years to return to earth.  They departed,  however,  as  CO2,  not yet  transformed  into another chemical as will happen  once they cycle back to earth or ocean.  On the earth's surface the carbon atom drops its attached  oxygen atoms to become part of (e.g.) a plant sugar.   Eventually via respiration or decomposition the typical one  will hook up with two new oxygen atoms as CO2 and be airborne again.           
            Each CO2 molecule as it leaves the atmosphere is quickly replaced by another CO2 in the teeming carbon cycle.  That cycle eagerly takes  up CO2  from plant and animal respiration and surface ocean water.  It also pulls in carbon  that has been out of the atmosphere and now re–enters it as CO2 after years (e.g. young trees pulped or burnt);  centuries (e.g. old growth pulped or burnt or decaying;  untouched prairie soils tilled, ag  soils washed-out ); or geological eras (e.g. fossil fuels extracted and burned, cement made from limestone).  Much of this re-entry, not all, is human-influenced.   Human-influenced CO2 emissions, however,  are a small part of  the carbon cycle inventory,  whereas  human-influenced CH4 emissions make up much of the associated  atmospheric methane cycle.   Thus inventory of   CO2  molecules in the atmosphere cannot decline unless carbon is sequestered at higher rates than now prevail.  The inventory is long-lived;  individual CO2 molecules are not.  It is misleading that  CO2  is called "long-lived."
            In a banking analogy,  methane is a busy checking account with cash flow: deposits, withdrawals and  fluctuating daily balance.  CO2 is a savings account whose manager replaces every withdrawal  the same day and makes deposits to boot, building up the stock.  Thus methane is termed a "flow gas" and CO2 a "stock gas."