After a long series of Stephen's blogs about climate and agriculture, it's refreshing to have some actual farm news in this section.
As of May 1 2023, Graeme Stewart, our guide, philosopher and friend for almost nineteen years, finally took actual  retirement eight months after the date we had penciled in three years ago.  He kindly stayed longer so we'd have  more time to seek a successor.  Graeme can't be replaced.  Unique and unforgettable, he has brought us  much and left us much.
We are fortunate to have found the right person to succeed him here. Our new manager is Cameron Pedigo. His phone number is 845 217 1974.  The farm's e-mail address will change on May 1 from anchorage1[at]earthlink.net, which Graeme has used, to anchorageromneys[at]gmail.com.  Both work  now.  After April 30, however, if you want to e-mail Graeme for a reason unrelated to Anchorage Farm, use his personal email, glstewart1950[at]earthlink.net For farm business, contact Cameron at the anchorageromneys email.  At some point, Graeme will probably close anchorage1, but will leave a change of address notice. 
Below is a photo of Cameron and his wife, Tara.  She is studying computer sciences at SUNY Albany,  and has  a farming background.  They met at Sprout Creek Farm in Lagrangeville NY.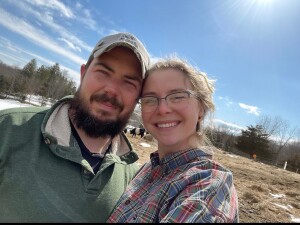 Luckily for us, Graeme in his newfound freedom will work closely with Cameron, paying special attention to purebred sales. We are very  grateful for that continuing connection.