Our Farm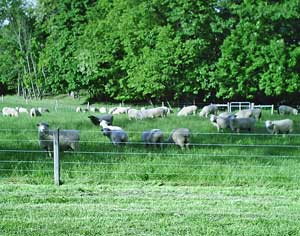 History
Lizbeth and Stephen Shafer got our first sheep in 1980 with the support and encouragement of Lizbeth's family,  who farmed in Dutchess County NY.  Our first ewes, not purebred,  had been the subjects of the shearing demo at the NYS Sheep and Wool Festival.  At Wethersfield,  the farm in Amenia NY founded in the 1930s by Lizbeth's  father,  we began a very small  Romney flock the next year. The first three ewes  came  from Brenda Bothe (NJ) ; the first  ram,  from Peter and Patty Drape (NY).   With the very material assistance of our friends the  Blundells and of the Wethersfield Farm staff  we built up the Wethersfield Romney flock along with a fair-sized commercial-sheep operation.  
Wethersfield Romneys got Premier Exhibitor at the Big E in 1987 and 1988; Premier Breeder in 1988.  At NAILE in 1988 Wethersfield  had  Grand Ch.  Romney Ewe (If I remember right, she was a Bellairs.)  Thus for 30  years this flock has stood well at major eastern shows; see the Shows and Sales pages for details.
In 1992 we moved to a 250-year-old farm in Saugerties,  NY and changed the flock name to Anchorage, that having been  the name of the new place since the 1890s.  The move and the re-establishment could not have been done without  the expertise  of Randy Reuter, manager  1989-2000.   Ian Stewart lent a strong hand 2002-2003.   In 2004 we were privileged to have Graeme Stewart come as manager.    Not only is Graeme indispensable  to Anchorage, but he also has had  many roles in the  Dutchess County Sheep and  and Wool Growers Association  (of which –no surprise–Lizbeth's brother in law Roy had been one of the original organizers).  Several years ago, Graeme was named Shepherd of the Year by the Association .  He  judges  sheep shows in MA, MD, NJ, NY, PA, VT and OH. 
Our farm was cleared before 1763  by settlers of Dutch descent.  In the 19th C.  it was known as "The Brink Place" for Capt.  John Brink,  who  fought at Yorktown and whose son Andrew piloted the North River Steamboat (later called Clermont) on its maiden voyage to Albany in 1809.   On moving in we found a lot of old horse-drawn farm equipment from the early 20th  C. and before.  The barns had no electricity and no water except a seasonal spring.  The slideshow takes viewers through  four seasons at Anchorage Farm. 
Update in 2017
We have, and are are glad  to have,  Romneys who get their pigment pattern from the dominant allele at the extension locus.  Nevertheless, we  set out several years ago on the road to to breeding  some "recessively" natural-colored Romneys,  learning from the experience of breeders like Maggie Howard, Dee Heinrich and Del Pike.  Like many breeders described in Maggie's book,  we realized seven  years ago  that we used to have recessively-colored Romneys in the 1980s and early 1990s but could no longer see any here.   To remedy that, the first step was to use  natural-colored x white crosses to "shake out"  the color allele dominant at extension; second step was to uncover color alleles at the agouti locus, known in shorthand as "recessive color."     Our  ram X001 from Tawanda Farms, Montague CA, was  the  keystone in this starting this multi-year sequence.  We thank Maggie and Carol for making him available to us, and for sending us in summer 2015 two more recessive rams that we very much wanted.  Read about them on the recessive color page.  X001 went in 2014 to a farm in Pennsylvania that was looking for an Aa Aa ram.  In late 2017, "Cary" and "Sangria" set off on a journey home to Montague after leaving us three years of great lambs.
Early on in the quest to breed recessively-colored Romneys we  lost a year in the "shake out" process through using a good natural-colored ram who. we now realize.  must have been "double dominant."  Thirty-five  of 36   lambs by him out of white ewes over  two seasons  were natural-colored, instead of the expected half.   Thirty-five of 35 lambs by him out of extension-dominant  ewes over those two years were natural-colored,  where if he were E+ Ed we would have expected about a quarter of them to be white.   [The one white lamb will forever be a  puzzle to  us.]    Our first home-born recessive n/c ewe was born in 2012, by X001 out of  a white ewe that went back to Bellairs blood.  She is still with us, bred for 2018.
We run about 13 acres of perennial pasture, mostly rolling with one steeper hillsides. We use semi-intensive rotational grazing for the ewe flock until breeding season,   when subgroups stay in larger paddocks longer.  We  fertilize the more level swards with composted barn bedding waste.  We don't employ chemical herbicides. We use chemical wormers regularly as appropriate to age and breeding cycle.  Mature ewes are vaccinated against Vibrio.  Lambs get lasalocid in their feed to one year of age for control of  "coccidiosis."    Other antimicrobials by mouth or injection are given as needed for treatment of symptoms or  prophylaxis against threats like neonatal pneumonia or chlamydia-caused abortion.   A few years ago we used 4-3-3 by Amsoil  as a foliar spray mixed with liquid lime on the two main pastures for two years, but have not applied anything except barn compost in the last five years.  The liquid lime kept getting stuck in the sprayer nozzles.
Stephen wrote in 1996 "Anchorage Farm is a riverbluff woodpasture steading, with a glade, a force, a dell, a kill, an edge, a chine, a swale, a rill, a scarp, a hanger, holt, a steep, an oldfield and a sheepwalk full of sheep."
In 2014 we had to put down 19-year old Zephyr,  the gray  cat who is seen in some of the slide pictures.  In 2015 Lava the guardian black llama had to be put down at age 14.  He, too, appears in some of the slides.  Daniel the tricolor cavalier spaniel who's in one of the slides, died a few years ago. and this year so did Jali at age 13, leaving Felix (5).  Graeme  has Nash the cream golden.  None of these dogs does a lick of work on the farm, of course, but they grace our households.
In spring 2017 Stephen and Lizbeth were introduced to "carbon farming"   when we joined the estimable environmental organization Citizens' Climate Lobby.  CCL perceived several years ago that storing carbon in soil and trees through "regenerative agriculture" could improve soil health while removing carbon dioxide (CO2) from the air.  This low-tech method of sequestering carbon can make agriculture literally part of the solution to global warming instead of  its  being a part of the  problem. [Note  that crop and livestock agriculture accounts for only about 10%  of  US  greenhouse gases/year, being  a minor player in that sense.  That proportion seems outsized to many  environmentalists, especially vegetarians, as agriculture provides only 1-2% of GNP   In that sense the  sector's share of GHG is unduly high, but without it we would all starve.  It can be made lower without long-term detriment to farmers and ranchers and without loss of productivity.]   In concert with Graeme, we have launched several related projects on carbon management  here which I plan to describe more in future blogs from our web site:
Assessing our farm's current carbon footprint (C-print) using our own tabulations as well as USDA COMET-farm; the English counterpart Farm Carbon Calculator; and the Scottish Coolfarm Tool.
Lowering the C-print immediately  We now buy  electricity for  the barns from Green Mountain Energy (100% solar or wind) through Central Hudson.  We had installed solar photovoltaic panels on one barn roof 16 months  ago, but they don't have the capacity to supply  everything. 
Assessing the health of the soil under our pastures by soil samples, soil bulk density testing and forage testing
Assessing the pros and cons  of  how we compost barn bedding waste and spread what results
Assessing consequences of manure and urine  dropped on the ground
Assessing carbon storage in trees, which cover more than half our total acreage.